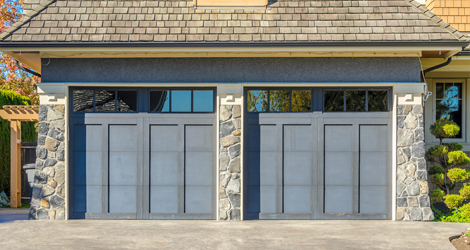 Your garage door is not just an entry cover for your storage area, it is one of essential parts of your home that needs proper attention. You need to ensure that there is no rust in the door and all the moving parts. Many people forget to paint their garage door as it is the least important thing in their to-do list. Having a painted garage door can add instant curb appeal to your home. Moreover, it also prevent early deterioration of the door, making them durable. Here are some simple tips to follow when painting your garage door.
Painting the Door

Before you start painting the door, make sure to go through the set of instructions on how to paint the door. It is essential to pay attention to every important detail.

The Best Paint to Use

You need to paint the internal and external part of the door, choose the paint that perfectly suits your needs and budget. There are various painting options available in the market. Some paints are thick to apply and don't drip much which makes it great for those looking for quick solution. These paints can be applied on both wood and aluminum door. There are some other paint options that have thin texture offering an appealing finish to the door. It is advisable to choose the paint color and texture as per your requirement.

Should I Paint my Garage Door?

Yes, you can either paint yourself or get it done by a professional. A perfectly painted door can add to the overall positive aesthetic feel of your house, most importantly, it adds an extra layer of protection. Paint will prevent the advent of rust and add a protective shield from the outer elements. Painting will also improve the lifespan of your garage door.

What We Can Do For You

Halton Garage Doors provides reliable and professional garage door maintenance service. We have been doing this for the past many years now and know how to get the job done right the first time. Give us a call to schedule an appointment.