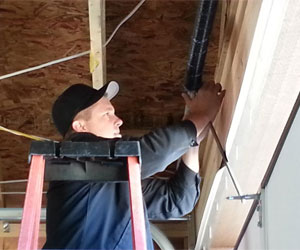 Garage door springs are one of the critical components of a garage door. They bear a lot of pressure when you open and close the door. So, it is important to ensure their optimal condition. Broken springs may snap and lead to serious injury or property damage. At Halton Garage Doors, our professionals are skilled to repair, replace and install garage door springs efficiently. We have the tools and techniques that help us complete the task in an efficient and professional manner. We are a locally owned and operated garage door company committed to providing cutting-edge solutions to both our residential and commercial customers in Oakville.
There are mainly two types of springs:
Torsion Springs
Torsion garage door springs are mounted above the door. Since, these springs are made up of soft steel, they tend to lose their strength over the time. In such condition, it is good to hire a professional garage door torsion spring replacement service in Oakville to avoid any mis-happening.
Extension Springs
Extension springs are generally seen on traditional garage doors. They are mounted above the door tracks on both the sides. They help in the smooth operation of the door by stretching and contracting. These springs are a little weak as they cannot withstand extreme climatic conditions. Thus, make sure you call our professionals for extension garage door spring inspection to catch the potential signs of damage at an early stage.
Can I replace the garage door springs on my own ?
NO, you should never tinker with the garage door springs. They work under a lot of pressure and can be extremely dangerous for you. There are high chances for the springs to break or snap while you try to remove or replace them. They can lead to property damage and worst, a fatal injury. It is advised to contact our professionals at Halton Garage Doors to handle your spring repair and replacement needs.
Your Local Spring Repair Experts
We are your local garage door spring experts in Oakville. Our licensed and insured technicians have been providing top-notch spring replacement solutions for the past many years. We know how to mend the springs right the first time. We will carefully assess the problem and implement the best course of action. Your satisfaction is our topmost priority and we can do anything to achieve it.
Our Features
24-Hour Emergency Services
25-point safety inspection
Quality parts and hardware
Up-front pricing
Satisfaction Guaranteed