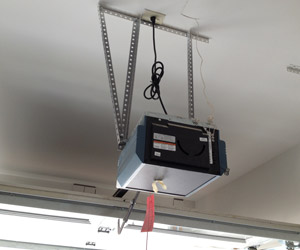 Garage door openers are crucial components that allow an automatic door to operate smoothly. At Halton Garage Doors, we have a huge collection of branded door openers in Oakville to choose from. Our experts install and repair all opener categories to maximize the performance and reliability of your garage door. To make sure that your residential or commercial garage door performs flawlessly for years to come, we install the right opener model that fulfills your door requirements.
Our garage door opener specialists in Oakville have earned an industry reputation through years of expertise. Be it screw, chain, belt drive or electric opener, we can efficiently install, maintain and repair them all. Don't panic, if your door refuses to perform in the early morning, our 24 hours emergency garage door repair professionals are always ready to help you with quality services. Call us right away if your overhead door isn't opening or is stuck.
Garage door opener not working? Call us today for help.

Install the Right Garage Door Opener
At, Halton Garage Doors, we provide the best in terms of model availability. What we offer to clients not only helps them operate the door with high efficiency but also add to the aesthetics appeal of your home. We deal in the leading Canadian brands of garage door openers available in Oakville region.Our installation services aim to deliver the right combination of pricing, performance and reliability. We have a team of adroit repairmen and technicians that are expert in the installation as per the home's architecture. Superior customer service besides cutting-edge technology is the hallmark of our services. Years of experience only adds to the reputation of our company in the local circles.
Different Types of Garage Door Openers
Chain Driven Opener – This is the most common opener which incorporates a chain drive to safely operate the door. For those having a detached garage, you can look at this model since it can create noise during operation.
Belt Driven Opener – This type of opener is same as the chain drive. However, in this case, a belt is used to operate the garage door instead of noise creating metal chain.
Screw Driven Opener – These modern systems use the efficient chain or belt systems for the right operation. Usually, they are employed in the heavy industrial doors. The mechanism for these doors depend on a combination of belt and chain drive mechanism.
Functions of a Garage Door Opener
Security of things in garage
Safeguard vehicles from theft
Safety from extreme climatic conditions
Smooth functioning of door auto mechanism
Why Hire Halton Garage Doors Professionals
We have a reputation among local residents in providing fast 24/7 emergency services. No matter which model or type, we have the right crew to repair or maintain openers. Our skilled and trained repair professionals have the expertise to solve your garage door opener woes. A 100% satisfaction is guaranteed to our clients.