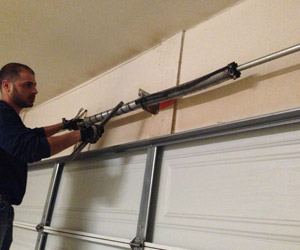 Is your garage door making a weird noise? Are you unable to open your garage door? Are you looking for annual garage door service Oakville? If yes, then you have come to the right place. Halton Garage Doors provides a complete range of garage door service in Oakville. Be it residential or commercial garage door, any make and model of opener or problem with the garage door spring, we can handle them all. Our talented technicians are trained to deal with any kind of garage door issue you might be experiencing. Just make us a call and we will reach your place, fully stocked, to prevent the issue.
Regular garage door maintenance is the key to keeping your door running smoothly for years to come. Make sure you visually inspect your garage door and its parts on a regular basis. If you find something wrong with the door or any door part, just contact us and rest we will handle. A garage door is essential to keep your family and valuables safe and secure. Thus, it is utmost important to pay due heed towards its maintenance and service. Professional door inspection will not only address the existing problems but will also rectify the potential issues that might trouble you in the future.
Our Wide Range of Garage Door Services in Oakville Include:
New Residential/Commercial Garage Door Installation
Repair/Install/Replace Garage Door Opener
Broken Garage Door Spring Replacement
Broken Garage Door Cables Repair or Replacement
Garage Door Panel Replacement
Garage Door Roller Replacement
Garage Door Weather Seal Replacement
Complete Garage Door Replacement
Garage Door Repair Parts
Emergency 24-Hour Garage Door Service
Garage Door Repair Maintenance Plan
Garage Door Opener Remotes
Why Choose Us?
At Halton Garage Doors, we aim to keep the property of our clients safe and secure. That's why, we bring a wide range of garage door services that can keep their doors robust and running reliably. We keep our service charges low so that every home and business owner can easily afford us. Your satisfaction is our topmost priority and we can go the extra mile to achieve it. Feel free to get in touch with us to get answers to all the questions that you might be having in your mind about us.
Our Features
24 Hours A Day & Seven Days A Week Service
Licensed, Bonded & Insured Technicians
Prompt, Professional & Reliable Solutions
Repair, Replace & Install All Makes & Models of Garage Doors
Specialize in Both Residential & Commercial Garage Doors
Free Estimates
Honest & Fair Pricing
Tailored Solutions To Meet Your Unique Needs
High Quality Products & Services
100% Customer Satisfaction