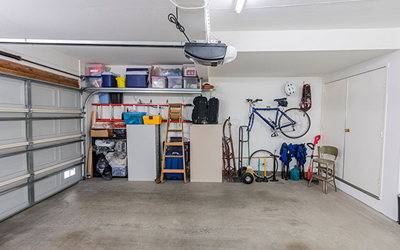 Because your garage is a prominent open place, it does not mean that you should dump everything that is not in use at the time. Often people put anything in the garage saying that they will organize it later. But, who cares and your garage becomes a chaotic mess.
It's summer, and it is the right time to organize your garage correctly because the summer season gives you a lot of time organizing your garage. Following some handy projects and little efforts, you can make more room in your messy garage.
Use Ceiling Space
The items like decoration and vacation material that don't use in your daily life, you can store them in your garage ceiling space.
Take Out Everything Before Rearranging
Taking out everything from the garage means you have a big clutter-free space that can give you an idea of how to rearrange everything appropriately. You can donate not useful things to needy people.
Make Use Of Vertical Space
Vertical space is the right way to store as many things as many you want using the less space. Make a perfect use of walls for handing bicycle, gardening tools and more.
Label Everything
When you label everything, it will be a great way to identify things instantly and effortlessly. After labeling, the items become easy to find.
These simple tips explained by overhead door experts at Halton Garage Doors can help you keep your garage clutter free which also affects your garage door functionality. Thus, you can make space behind the garage door so that you can easily open and close it. To know more tips related to garage and garage doors, call us today.