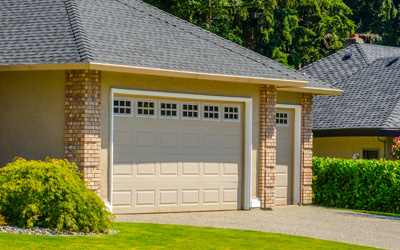 Nowadays, almost all modern garage doors come with the photo-eye sensor. It is also known as the automatic reverse safety mechanism. When there is anything in the path of your garage door, it will refuse to close. It means the photo eye sensor allows you to close the door automatically and you don't need to use your strength to operate it. It turns out to be beneficial to protect you and your family as well as it prevents property damage.
How Photo Eye Sensors Work
There are two photo eye sensors fixed six inches above the ground in the garage door. These are placed either side of your overhead door. These two eyes develop the beam in their path. Thus, the sender sends a beam, and the receiver receives to operate it. In case, you or anything interrupts the beam communication, the door stops to coming down and immediately go in reverse direction. If there is an alignment problem with your overhead door, the green light will turn off while the amber light will remain lit.
How Photo Eye Sensor Interfere
Generally, the photo eye sensor works quickly and adequately. If you found, your garage door is not getting down or going reverse again and again then inspect it. There could be something in the path of photo-eye sensors that stop them from functioning. Even, it could be dust or debris.
To resolve this problem, you can do the cleaning of the sensor using a piece of cotton. Thus, the sensors will become able to communicate with each other and operate the garage door.
What If Photo Eye Sensors Don't Work
Even after cleaning, your photo eye sensors are not working then you need to repair it immediately. It is not a kind of repair that you can't do your own. You must hire the experts to get best-in-class service.
So, feel free to call Halton Garage Doors. We offer affordable and reliable 24/7 garage door services in Oakville. We have licensed, and insured technicians who provide installation, repair, replacement and maintenance services of almost all make and model overhead doors.