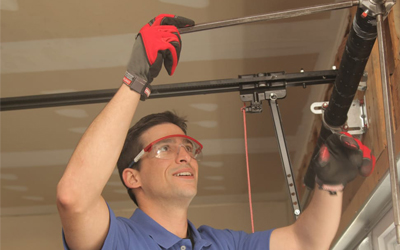 People often overlook their garage door installations, unless they start exhibiting issues and repair signs. The moment when homeowners realize the worth of overhead door is the time when it almost stops working. One of the common reason behind this problem is a faulty garage door spring. When we close or open a door, the entire door weight is transferred over to the springs. Due to this weight and extreme pressure, both torsion and extension springs tend to break down over time. Therefore, its crucial to inspect and replace them professionally from garage door repair technicians.
Types Of Overhead Door Springs
There are two type of springs that are found in both traditional and modern doors. Torsion springs are installed just above the closed door, while the extension springs are mounted over the door tracks of the door on either side. The presence of both these springs is essential to boost door mechanism. In order to support smooth operation, these springs are bounded tightly on the door so that enough of tension can be created. In case they break while operating, one can receive a serious injury as the door snaps down with extreme force.
How To Clean & Maintain Springs
If your overhead door is exhibiting weird and screeching sounds, then it's a sure sign that it needs to be lubricated. Since springs play a crucial role in door operation, there is need to clean and maintain them periodically. For this purpose, buy a lubricant spray and apply it over the springs without making any physical contact with the element. To prevent any risk of injuries, its ideal to call in reliable repair professionals.
Why You Need To Call An Expert?
If the door is still making noise and not operating as desired, then there is need to call in garage door experts for service. Most of the times, the underlying issue behind a noisy door is a faulty element that can't be overcome by lubricating. As the springs have to handle a door weight of around 500 pounds, the tension under which they work is quite intense. A bit of negligence can cause some serious or life threatening injury. By calling a professional, one can experience quality service and peace of mind:
They have the right equipments and techniques used in proper spring replacement.
They know how to install, measure and cut the springs at their accurate length.
They make sure that the door is properly balanced to avoid risk of accidents.
These are some reasons to hire garage door specialists for spring replacement service. If you are looking for a reliable overhead door company in Oakville, look no further than Halton Garage Doors.