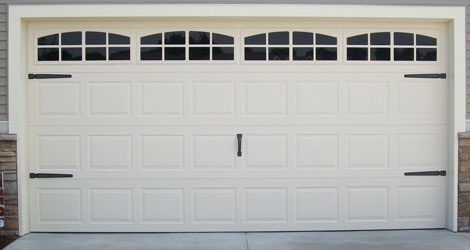 Installing a new garage door is an expensive investment. As a homeowner, you don't want to take any risk with your long term investment. Replacing an old door with a new one is a major decision that is taken by a homeowner to enhance the curb appeal and value of their property. A garage door is something that provides security and safety to you and your family.
When it comes to choosing a new door for your home, you may get confused as there are a number of overhead doors available and you don't know which one is good for you. An overhead door offers more than a barrier between your vehicle and the outside world. It is something that adds aesthetic appeal to your property. Overhead doors come in a number of materials and every material has its own pros and cons.
Wooden garage doors:
It offers a warm and homey appearance. Composite wooden doors are affordable and meant to be painted. The natural beauty of wooden door is the most desirable choice of every homeowner. These doors are available in a number of styles with several economical options.
Steel garage doors
This is one the most popular materials, because it is available at the lowest price. If you don't have enough bucks to purchase wooden doors, you can make these doors your choice. Steel doors require low maintenance service and these are durable. Like wood doors, it can be painted and these are insulated.
Aluminum garage doors
These doors are relatively maintenance free and lighter than steel and wood material. It has several features such as rust resistant and insulated. If you are looking for an extra wide double door, aluminum is good for you. But it has one disadvantage i.e. it will easily dent. If kids are playing with a ball in front of the door, the door will damage easily.
Fiberglass garage doors
Fiberglass is a flexible material than wood. It offers more durable than other materials. This material can withstand moisture and insects. These types of doors start to break down very easily in the winter season where the temperatures drop below freezing.
Vinyl garage door
If you have kids in your house, this material is good for you. Because this material is also known as kid proof door. Vinyl doors are extremely hard to break and dent. These doors are similar to fiberglass in construction, but these are more durable. It has only one disadvantage that it is available in a very few colors and designs.
Here you have it. Given are the most popular material and you can choose anyone of them for your new door. The price range of them varies based on the performance and aesthetic features they provide. Give us a call and professionals of Halton Garage Doors will be happy to assist you.