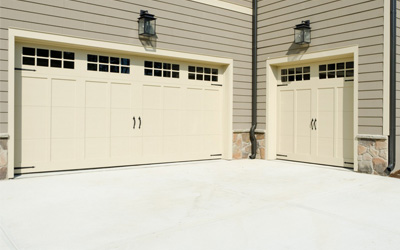 When you find your garage door off track, it is annoying as well as make you insecure until you repair it. In order to keep your overhead door in working condition, you have to inspect its minor problems and fix them on time. Remember, your ignorance with your garage door problems can put you in a big damage or physical injury. This is why, when you are getting your overhead door off track, you should fix it immediately following the below steps:
4 Steps For Overhead Door Off Track Repair
First of all, disconnect your garage door from the opener and pull the rope of your overhead door to release it from the opener.
Manually open the door and find where the wheels on the door are jumping off the track. You can snap the locking plier from the downside of the door on the track.
Operate the door manually to check whether it is working properly or not. Later, you can use the remote control to operate the door opener.
Precautions:
Maintain the small size components and fix them properly.
You should be able to handle the weight of your garage door.
Use the tools like pliers carefully
It will be better to take help of professionals in handling the problems with your garage door off track. Because, the professionals at Halton Garage Doors are licensed and insured to provide damage free services. We offer 24/7 emergency services to our residential or commercial clients.